Making Peace with Nature: A Scientific Blueprint to Tackle the Climate, Biodiversity and Pollution Emergencies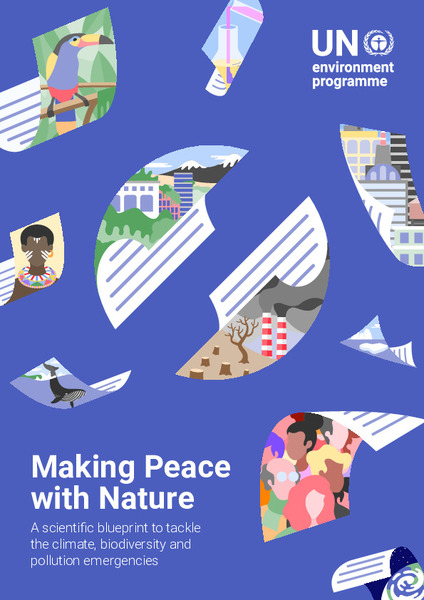 Date
2021-02
Author
United Nations Environment Programme
Bibliographic Managers
RT Generic T1 Making Peace with Nature: A Scientific Blueprint to Tackle the Climate, Biodiversity and Pollution Emergencies A1 United Nations Environment Programme YR 2021-02 LK https://wedocs.unep.org/20.500.11822/34948 PB AB
TY - GEN T1 - Making Peace with Nature: A Scientific Blueprint to Tackle the Climate, Biodiversity and Pollution Emergencies AU - United Nations Environment Programme Y1 - 2021-02 UR - https://wedocs.unep.org/20.500.11822/34948 PB - AB -
@misc{20.500.11822_34948 author = {United Nations Environment Programme}, title = {Making Peace with Nature: A Scientific Blueprint to Tackle the Climate, Biodiversity and Pollution Emergencies}, year = {2021-02}, abstract = {}, url = {https://wedocs.unep.org/20.500.11822/34948} }
@misc{20.500.11822_34948 author = {United Nations Environment Programme}, title = {Making Peace with Nature: A Scientific Blueprint to Tackle the Climate, Biodiversity and Pollution Emergencies}, year = {2021-02}, abstract = {}, url = {https://wedocs.unep.org/20.500.11822/34948} }
TY - GEN T1 - Making Peace with Nature: A Scientific Blueprint to Tackle the Climate, Biodiversity and Pollution Emergencies AU - United Nations Environment Programme UR - https://wedocs.unep.org/20.500.11822/34948 PB - AB -
View/Open
Description
This report presents a flexible scientific blueprint for how the climate change, biodiversity and pollution emergencies can be tackled jointly within the framework of the SDGs. The first of its kind, this report gathers expertise from across recent global assessments to gauge Earth's environmental decline and suggest how society at large can best respond. The expert analysis synthesizes key findings from the assessments with those from additional high-impact peer-reviewed literature and grey literature. Part I of this report shows how the findings of the assessments are interlinked and add up to an unparalleled planetary emergency. It presents a diagnosis of how the human transformation of Earth's natural systems puts the collective human future at risk.
Collections
Document Viewer
To read more, scroll down below.
Related items
Showing items related by title, author, creator and subject.
Com a ratificação da Convenção sobre a Diversidade Biológica, em Março de 1995, Cabo Verde comprometeu-se perante o mundo em apresentar periodicamente ao Secretariado da Convenção, o balanço da implementação da mesma no ...

Rose Mwebaza

;

Phillip Njuguna

;

Iris Corullus and Dennis Matatiken

(

Institute for Security Studies

,

2009

)

This research was undertaken by the Environmental Crime Project (ECP) of the Institute for Security Studies (ISS) as part of an eight-country study to determine the nature and extent of environmental crime in Eastern Africa. ...

The Northern Ireland Environment Agency (NIEA)

(

The Northern Ireland Environment Agency (NIEA)

,

2013

)

From Evidence to Opportunity" is Northern Ireland's second State of the Environment report. The first report "Our environment, our heritage, our future" was published in 2008 and presented baseline indicators across six ...