Afghanistan: Building Environmental Resilience and Sustainability in Afghanistan: 2002-2022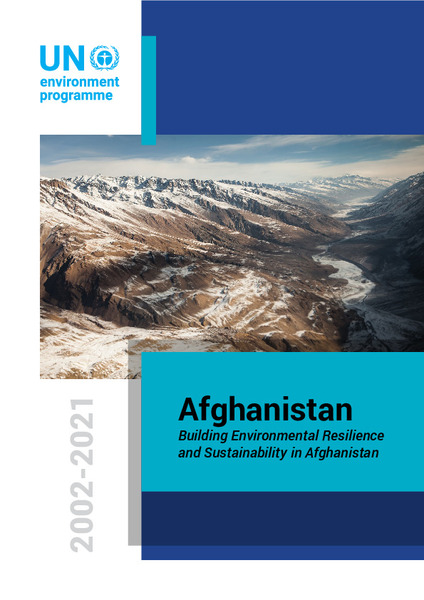 Date
2022-08
Author
United Nations Environment Programme
Bibliographic Managers
RT Generic T1 Afghanistan: Building Environmental Resilience and Sustainability in Afghanistan: 2002-2022 A1 United Nations Environment Programme YR 2022-08 LK https://wedocs.unep.org/20.500.11822/40536 PB AB
TY - GEN T1 - Afghanistan: Building Environmental Resilience and Sustainability in Afghanistan: 2002-2022 AU - United Nations Environment Programme Y1 - 2022-08 UR - https://wedocs.unep.org/20.500.11822/40536 PB - AB -
@misc{20.500.11822_40536 author = {United Nations Environment Programme}, title = {Afghanistan: Building Environmental Resilience and Sustainability in Afghanistan: 2002-2022}, year = {2022-08}, abstract = {}, url = {https://wedocs.unep.org/20.500.11822/40536} }
@misc{20.500.11822_40536 author = {United Nations Environment Programme}, title = {Afghanistan: Building Environmental Resilience and Sustainability in Afghanistan: 2002-2022}, year = {2022-08}, abstract = {}, url = {https://wedocs.unep.org/20.500.11822/40536} }
TY - GEN T1 - Afghanistan: Building Environmental Resilience and Sustainability in Afghanistan: 2002-2022 AU - United Nations Environment Programme UR - https://wedocs.unep.org/20.500.11822/40536 PB - AB -
View/Open
Description
Decades of conflict coupled with recurrent extreme weather events have had devastating impacts on the people of Afghanistan as well as the natural environment. Starting with a Post Conflict Environmental Assessment in 2001, UNEP provided technical and normative support to the government of Afghanistan in strengthening environmental governance and piloted projects with local communities to build their resilience to natural hazards and climate change.
Collections
Document Viewer
To read more, scroll down below.
Related items
Showing items related by title, author, creator and subject.
Com a ratificação da Convenção sobre a Diversidade Biológica, em Março de 1995, Cabo Verde comprometeu-se perante o mundo em apresentar periodicamente ao Secretariado da Convenção, o balanço da implementação da mesma no ...

Rose Mwebaza

;

Phillip Njuguna

;

Iris Corullus and Dennis Matatiken

(

Institute for Security Studies

,

2009

)

This research was undertaken by the Environmental Crime Project (ECP) of the Institute for Security Studies (ISS) as part of an eight-country study to determine the nature and extent of environmental crime in Eastern Africa. ...

The Northern Ireland Environment Agency (NIEA)

(

The Northern Ireland Environment Agency (NIEA)

,

2013

)

From Evidence to Opportunity" is Northern Ireland's second State of the Environment report. The first report "Our environment, our heritage, our future" was published in 2008 and presented baseline indicators across six ...