Training Package for Mercury Monitoring to Enhance National Capacity to Generate Internationally Comparable Scientific Data Ver. 1.0 - User's Manual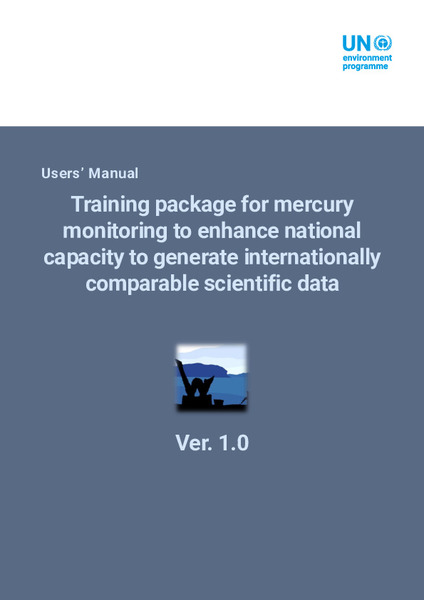 Date
2022-11
Author
United Nations Environment Programme
Bibliographic Managers
RT Generic T1 Training Package for Mercury Monitoring to Enhance National Capacity to Generate Internationally Comparable Scientific Data Ver. 1.0 - User's Manual A1 United Nations Environment Programme YR 2022-11 LK https://wedocs.unep.org/20.500.11822/41424 PB AB
TY - GEN T1 - Training Package for Mercury Monitoring to Enhance National Capacity to Generate Internationally Comparable Scientific Data Ver. 1.0 - User's Manual AU - United Nations Environment Programme Y1 - 2022-11 UR - https://wedocs.unep.org/20.500.11822/41424 PB - AB -
@misc{20.500.11822_41424 author = {United Nations Environment Programme}, title = {Training Package for Mercury Monitoring to Enhance National Capacity to Generate Internationally Comparable Scientific Data Ver. 1.0 - User's Manual}, year = {2022-11}, abstract = {}, url = {https://wedocs.unep.org/20.500.11822/41424} }
@misc{20.500.11822_41424 author = {United Nations Environment Programme}, title = {Training Package for Mercury Monitoring to Enhance National Capacity to Generate Internationally Comparable Scientific Data Ver. 1.0 - User's Manual}, year = {2022-11}, abstract = {}, url = {https://wedocs.unep.org/20.500.11822/41424} }
TY - GEN T1 - Training Package for Mercury Monitoring to Enhance National Capacity to Generate Internationally Comparable Scientific Data Ver. 1.0 - User's Manual AU - United Nations Environment Programme UR - https://wedocs.unep.org/20.500.11822/41424 PB - AB -
View/Open
Description
The 'Training package for mercury monitoring to enhance national capacity to generate internationally comparable scientific data' addresses specific skills for laboratory managers and technicians to produce reliable data. It enhances national capacity to generate scientific data by using multimedia and focusing on different applications that meets internationally acceptable level. The material provides not only manual skills to use devices and instruments, but also information on the principles of quality assurance and quality control to address comparability issues. Quality is the value of produced data. Practical examples to reduce data bias and uncertainty are also provided.
Collections
Document Viewer
To read more, scroll down below.
Related items
Showing items related by title, author, creator and subject.
United Nations Environment Programme

;

Coordinating Body on the Seas of East Asia

(

2022-02

)

This document was developed as part of the SEA circular project – Reducing marine litter by addressing the management of the plastic value chain in South-East Asia implemented by the United Nations Environment Programme ...

United Nations Environment Programme

(

2019

)

Stories told by the people behind the Global Monitoring Plan (GMP) for Persistent Organic Pollutants (POPs) UNEP/GEF project: "Women who are breast feeding their first-born are able to participate in the milk sampling. ...