Lessons Learned and Good Practices in Natural Resource Management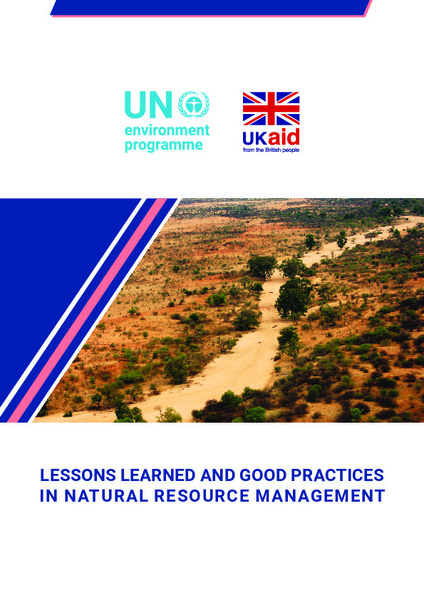 Date
2020
Author
United Nations Environment Programme
United Kingdom, Department for International Development
Bibliographic Managers
RT Generic T1 Lessons Learned and Good Practices in Natural Resource Management A1 United Nations Environment Programme, United Kingdom, Department for International Development YR 2020 LK https://wedocs.unep.org/20.500.11822/42426 PB AB
TY - GEN T1 - Lessons Learned and Good Practices in Natural Resource Management AU - United Nations Environment Programme, United Kingdom, Department for International Development Y1 - 2020 UR - https://wedocs.unep.org/20.500.11822/42426 PB - AB -
@misc{20.500.11822_42426 author = {United Nations Environment Programme, United Kingdom, Department for International Development}, title = {Lessons Learned and Good Practices in Natural Resource Management}, year = {2020}, abstract = {}, url = {https://wedocs.unep.org/20.500.11822/42426} }
@misc{20.500.11822_42426 author = {United Nations Environment Programme, United Kingdom, Department for International Development}, title = {Lessons Learned and Good Practices in Natural Resource Management}, year = {2020}, abstract = {}, url = {https://wedocs.unep.org/20.500.11822/42426} }
TY - GEN T1 - Lessons Learned and Good Practices in Natural Resource Management AU - United Nations Environment ProgrammeUnited Nations Environment Programme, United Kingdom, Department for International Development UR - https://wedocs.unep.org/20.500.11822/42426 PB - AB -
View/Open
Description
The lessons learned, and good practices published in these documents were then incorporated into four themes. The second step was to distribute four summaries to all partners. The third step, in November 2017, was to organize a workshop for practitioners dealing with lesson learning in their organizations. Finally, comments and recommendations made during the workshop were incorporated and draft themes were reviewed. In 2018, the four themes were translated into Arabic, printed and then disseminated in Sudan to NRM practitioners for further review and later finalised in 2019 by incorporation of comments and suggestions. The four themes are on: Supporting livestock corridor management. 2. Registering and managing forests and rangelands. 3. Providing support to smallholder gum arabic farmers. 4. Developing synergy between Integrated Water Resources Management and Natural Resource Management.
Collections
Document Viewer
To read more, scroll down below.
Related items
Showing items related by title, author, creator and subject.
Com a ratificação da Convenção sobre a Diversidade Biológica, em Março de 1995, Cabo Verde comprometeu-se perante o mundo em apresentar periodicamente ao Secretariado da Convenção, o balanço da implementação da mesma no ...

Republic of Korea, Ministry of Environment

(

Ministry of Environment - Korea Environment Institute - Republic of Korea

,

2010

)

After the recognition of national ownership of biological resources pursuant to the Convention on Biological Diversity (CBD), competition between nations has been intensifying to acquire biological resources. The Korean ...

Ministry of Environment - Republic of Iraq

(

Ministry of Environment - Republic of Iraq

,

2013

)

The Strategy identifies urgent priorities such as protecting and improving the quality of water, soil and air