Arab Environment 7: Food Security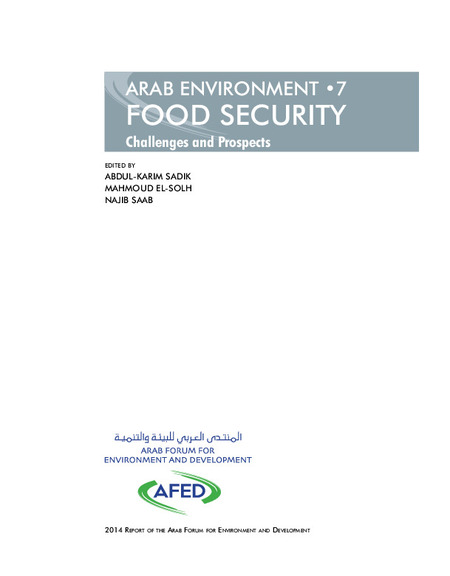 Date
2014
Author
Arab Forum for Environment and Development
Bibliographic Managers
RT Generic T1 Arab Environment 7: Food Security A1 Arab Forum for Environment and Development YR 2014 LK https://wedocs.unep.org/20.500.11822/9621 PB AB
TY - GEN T1 - Arab Environment 7: Food Security AU - Arab Forum for Environment and Development Y1 - 2014 UR - https://wedocs.unep.org/20.500.11822/9621 PB - AB -
@misc{20.500.11822_9621 author = {Arab Forum for Environment and Development}, title = {Arab Environment 7: Food Security}, year = {2014}, abstract = {}, url = {https://wedocs.unep.org/20.500.11822/9621} }
@misc{20.500.11822_9621 author = {Arab Forum for Environment and Development}, title = {Arab Environment 7: Food Security}, year = {2014}, abstract = {}, url = {https://wedocs.unep.org/20.500.11822/9621} }
TY - GEN T1 - Arab Environment 7: Food Security AU - Arab Forum for Environment and Development UR - https://wedocs.unep.org/20.500.11822/9621 PB - AB -
View/Open
Description
Food Security is the seventh in the series of annual reports on the state of Arab environment produced by the Arab Forum for Environment and Development (AFED). The primary aim of AFED reports is to foster the use of science in environmental policy and decision-making. This is in line with AFED's mission "to advance prudent environmental policies and action in the Arab countries based on science and awareness." This report highlights the need for more efficient management of the agriculture and water sectors, enhancing the prospects of food security. It comes as natural addition to the sequence.
Collections
Document Viewer
To read more, scroll down below.
Related items
Showing items related by title, author, creator and subject.
UNEP/MAP

(

UNEP/MAP

,

12/02/2016

)

Adopt the Updated Action Plan for the Conservation of Cetaceans in the Mediterranean Sea, the Updated Action Plan for the Conservation of the Coralligenous and Other Calcareous Bio-concretions in the Mediterranean Sea, the ...

UNEP/MAP

(

UNEP/MAP

,

18/01/2008

)

Include five sites in the SPAMI List; Request the concerned Party to take the necessary protection and conservation measures; Request SPA/RAC to inform the competent international organisations of the newly adopted SPAMIs ...

United Nations Environment Programme

Presentation at the 10th Global Meeting of the Regional Seas Conventions and Action Plans