El Estado de la Generación Distribuida Solar Fotovoltaica en América Latina y El Caribe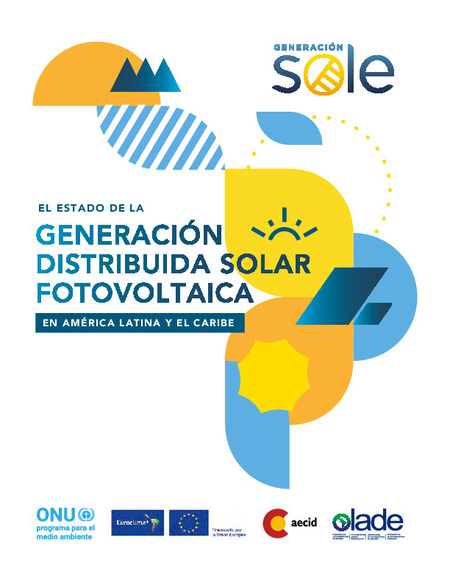 Date
2022-07
Author
United Nations Environment Programme
Bibliographic Managers
RT Generic T1 El Estado de la Generación Distribuida Solar Fotovoltaica en América Latina y El Caribe A1 United Nations Environment Programme YR 2022-07 LK https://wedocs.unep.org/20.500.11822/40538 PB AB
TY - GEN T1 - El Estado de la Generación Distribuida Solar Fotovoltaica en América Latina y El Caribe AU - United Nations Environment Programme Y1 - 2022-07 UR - https://wedocs.unep.org/20.500.11822/40538 PB - AB -
@misc{20.500.11822_40538 author = {United Nations Environment Programme}, title = {El Estado de la Generación Distribuida Solar Fotovoltaica en América Latina y El Caribe}, year = {2022-07}, abstract = {}, url = {https://wedocs.unep.org/20.500.11822/40538} }
@misc{20.500.11822_40538 author = {United Nations Environment Programme}, title = {El Estado de la Generación Distribuida Solar Fotovoltaica en América Latina y El Caribe}, year = {2022-07}, abstract = {}, url = {https://wedocs.unep.org/20.500.11822/40538} }
TY - GEN T1 - El Estado de la Generación Distribuida Solar Fotovoltaica en América Latina y El Caribe AU - United Nations Environment Programme UR - https://wedocs.unep.org/20.500.11822/40538 PB - AB -
View/Open
Description
El presente reporte tiene como objetivo visibilizar el desarrollo regional y nacional de la generación solar distribuida en América Latina y El Caribe (ALC). Para ello, se relevó la información de 11 mercados que cuentan con marcos regulatorios específicos para dicha actividad y un exitoso desarrollo desde su implementación. Los mercados relevados son: Argentina, Brasil, Chile, Colombia, Costa Rica, Guatemala, México, Panamá, Puerto Rico, República Dominicana y Uruguay. El desarrollo de los recursos energéticos distribuidos presenta una oportunidad para que los países de la región alcancen sus objetivos de reducción de emisiones gases de efecto invernadero y cumplan con sus Contribuciones Nacionales Determinadas (NDC, por sus siglas en inglés). El despliegue de estas nuevas tecnologías también fomenta el crecimiento económico mediante la generación de empleo y la atracción de inversiones, a la vez que refuerza y flexibiliza los sistemas energéticos.
Collections
Document Viewer
To read more, scroll down below.
Related items
Showing items related by title, author, creator and subject.
United Nations Environment Programme

(

United Nations Environment Programme (UNEP)

,

2008

)

This report presents the financial perspective, or dollar view, of the current state of play in sustainable energy development. The analysis in this report consists of actual data on the different types of capital flows ...

The Renewables 2019 Global Status Report (GSR 2019) marks 15 years since Bonn2004, the landmark international conference that gave rise to REN21. Then, a "coalition of the willing" came together with one objective in mind: ...

The REN21 Renewables Global Status Report provides a comprehensive and timely overview of renewable energy market, industry, and policy developments worldwide, providing a sound basis for measuring global progress in ...