Compilation of Information, Best Practices and Lessons Learned on Measures Taken by Key Stakeholders to Prevent and Reduce Single Use Plastic Waste and Packaging Waste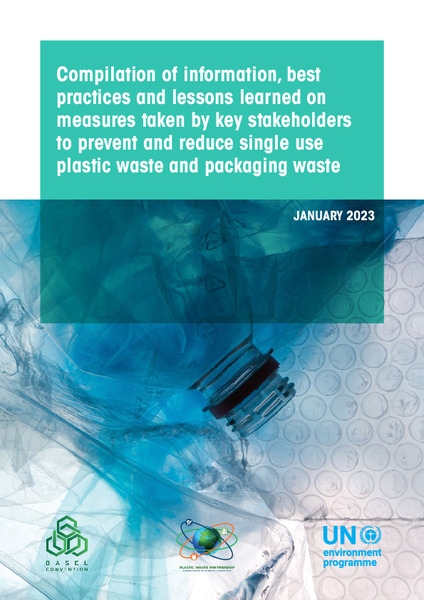 Date
2023-01
Author
United Nations Environment Programme
Secretariat of the Basel, Rotterdam and Stockholm Conventions
Plastic Waste Partnership
Bibliographic Managers
RT Generic T1 Compilation of Information, Best Practices and Lessons Learned on Measures Taken by Key Stakeholders to Prevent and Reduce Single Use Plastic Waste and Packaging Waste A1 United Nations Environment Programme, Secretariat of the Basel, Rotterdam and Stockholm Conventions, Plastic Waste Partnership YR 2023-01 LK https://wedocs.unep.org/20.500.11822/42382 PB AB
TY - GEN T1 - Compilation of Information, Best Practices and Lessons Learned on Measures Taken by Key Stakeholders to Prevent and Reduce Single Use Plastic Waste and Packaging Waste AU - United Nations Environment Programme, Secretariat of the Basel, Rotterdam and Stockholm Conventions, Plastic Waste Partnership Y1 - 2023-01 UR - https://wedocs.unep.org/20.500.11822/42382 PB - AB -
@misc{20.500.11822_42382 author = {United Nations Environment Programme, Secretariat of the Basel, Rotterdam and Stockholm Conventions, Plastic Waste Partnership}, title = {Compilation of Information, Best Practices and Lessons Learned on Measures Taken by Key Stakeholders to Prevent and Reduce Single Use Plastic Waste and Packaging Waste}, year = {2023-01}, abstract = {}, url = {https://wedocs.unep.org/20.500.11822/42382} }
@misc{20.500.11822_42382 author = {United Nations Environment Programme, Secretariat of the Basel, Rotterdam and Stockholm Conventions, Plastic Waste Partnership}, title = {Compilation of Information, Best Practices and Lessons Learned on Measures Taken by Key Stakeholders to Prevent and Reduce Single Use Plastic Waste and Packaging Waste}, year = {2023-01}, abstract = {}, url = {https://wedocs.unep.org/20.500.11822/42382} }
TY - GEN T1 - Compilation of Information, Best Practices and Lessons Learned on Measures Taken by Key Stakeholders to Prevent and Reduce Single Use Plastic Waste and Packaging Waste AU - United Nations Environment ProgrammeUnited Nations Environment Programme, Secretariat of the Basel, Rotterdam and Stockholm ConventionsSecretariat of the Basel, Rotterdam and Stockholm Conventions, Plastic Waste Partnership UR - https://wedocs.unep.org/20.500.11822/42382 PB - AB -
View/Open
Description
This compilation report provides a global overview of national and subnational policies designed to prevent and reduce single-use plastics, including primary microplastics, and plastic packaging. Plastic packaging other than single-use plastic packaging is not covered in this document. This document compiles information, best practices and lessons learnt referenced in literature from research, intergovernmental organizations, government agencies, civil society organizations, and the private sector (grey literature). It also highlights gaps in the academic and grey literature, proposing avenues for future research.
Collections
Document Viewer
To read more, scroll down below.
Related items
Showing items related by title, author, creator and subject.
United Nations Environment Programme

(

2019

)

This study identifies how risks related to plastic pollution play out across insurance lines and asset classes in which insurers invest. It argues that insurers should take an active role in addressing the risks related ...

United Nations Environment Programme

(

2022-10

)

Compilation of chemical substances that function as plastic additives and other chemical constituents of plastics across various sectors based on compilation of Aurisano et al. 2021b; Wiesinger et al. 2021 and Geueke et al. 2022

United Nations Environment Programme

(

2022-09

)

Plastic waste contributes to 80 per cent of the litter found on Cambodia's beaches and is significantly impacting marine ecosystems and local communities, which do not have a lasting solution to deal with the daily reality ...