Air Quality in Bishkek: Assessment of Emission Sources and Road map for Supporting Air Quality Management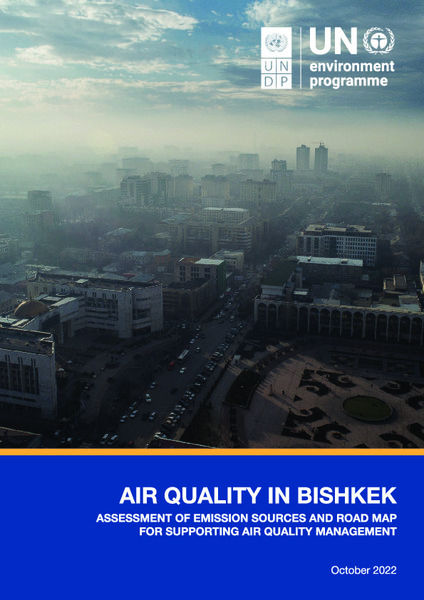 Date
2022-10
Author
United Nations Environment Programme
United Nations Development Programme
Bibliographic Managers
RT Generic T1 Air Quality in Bishkek: Assessment of Emission Sources and Road map for Supporting Air Quality Management A1 United Nations Environment Programme, United Nations Development Programme YR 2022-10 LK https://wedocs.unep.org/20.500.11822/41090 PB United Nations Environment Programme AB
TY - GEN T1 - Air Quality in Bishkek: Assessment of Emission Sources and Road map for Supporting Air Quality Management AU - United Nations Environment Programme, United Nations Development Programme Y1 - 2022-10 UR - https://wedocs.unep.org/20.500.11822/41090 PB - United Nations Environment Programme AB -
@misc{20.500.11822_41090 author = {United Nations Environment Programme, United Nations Development Programme}, title = {Air Quality in Bishkek: Assessment of Emission Sources and Road map for Supporting Air Quality Management}, year = {2022-10}, abstract = {}, url = {https://wedocs.unep.org/20.500.11822/41090} }
@misc{20.500.11822_41090 author = {United Nations Environment Programme, United Nations Development Programme}, title = {Air Quality in Bishkek: Assessment of Emission Sources and Road map for Supporting Air Quality Management}, year = {2022-10}, abstract = {}, url = {https://wedocs.unep.org/20.500.11822/41090} }
TY - GEN T1 - Air Quality in Bishkek: Assessment of Emission Sources and Road map for Supporting Air Quality Management AU - United Nations Environment ProgrammeUnited Nations Environment Programme, United Nations Development Programme UR - https://wedocs.unep.org/20.500.11822/41090 PB - United Nations Environment Programme AB -
Description
This report focuses on presenting the scientific background of air quality in Bishkek based on data analysis of available air quality monitoring data from Bishkek, and using this evidence base, presents a roadmap including the actions and proposed measures towards cleaner air for the city. Data analysed includes the KyrgyzHydromet and US Embassy Air Quality Stations, available air quality sensor data and satellite data. Emission inventories have been used to assess the largest pollution sources, which are likely to have significant impacts on air quality in Bishkek. This study is the first scientific assessment of key emission sources impacting the air quality in the Bishkek area based on the analysis of air quality monitoring data, emission inventories, local scale dispersion modeling, satellite data and air quality sensor data. Thus, this study and its recommendations are based on the real-time air quality data measured in the Bishkek area, and provide the first evidence-based policy recommendations.
Collections
Document Viewer
To read more, scroll down below.
Related items
Showing items related by title, author, creator and subject.
United Nations Environment Programme

;

United Nations Human Settlement Programme

(

UNEPUNHABITAT

,

2000

)

The Handbook presents the air quality management process in a systematic sequence ofactivities. This sequence, referred to as the Environment Planning and Management (EPM)process, is based on the experience of cities around ...

World Health Organization

(

WHO

,

2012

)

Black carbon is a good indicator of combustion-related air pollution, and was only recently recognized as a short-lived climate-forcer, which contributes to warming the Earth's atmosphere.This report presents the results ...

Republic of Korea, Ministry of Environment

(

Ministry of Environment - Korea Environment Institute - Republic of Korea

,

2006

)

Due to the government's aggressive execution of measures against atmospheric pollution such as low-sulphur oil and the obligation to use clean fuel, the levels of SO2 and CO pollutions have improved.