Adaptation Gap Report 2022: Too Little, Too Slow - Climate Adaptation Failure Puts World at Risk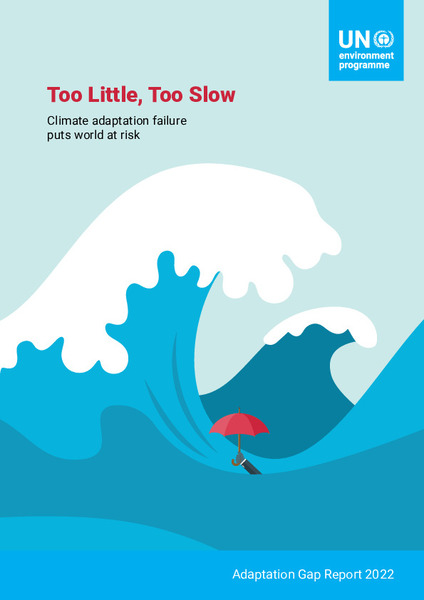 Date
2022-11
Author
United Nations Environment Programme
Bibliographic Managers
RT Generic T1 Adaptation Gap Report 2022: Too Little, Too Slow - Climate Adaptation Failure Puts World at Risk A1 United Nations Environment Programme YR 2022-11 LK https://wedocs.unep.org/20.500.11822/41078 PB AB
TY - GEN T1 - Adaptation Gap Report 2022: Too Little, Too Slow - Climate Adaptation Failure Puts World at Risk AU - United Nations Environment Programme Y1 - 2022-11 UR - https://wedocs.unep.org/20.500.11822/41078 PB - AB -
@misc{20.500.11822_41078 author = {United Nations Environment Programme}, title = {Adaptation Gap Report 2022: Too Little, Too Slow - Climate Adaptation Failure Puts World at Risk}, year = {2022-11}, abstract = {}, url = {https://wedocs.unep.org/20.500.11822/41078} }
@misc{20.500.11822_41078 author = {United Nations Environment Programme}, title = {Adaptation Gap Report 2022: Too Little, Too Slow - Climate Adaptation Failure Puts World at Risk}, year = {2022-11}, abstract = {}, url = {https://wedocs.unep.org/20.500.11822/41078} }
TY - GEN T1 - Adaptation Gap Report 2022: Too Little, Too Slow - Climate Adaptation Failure Puts World at Risk AU - United Nations Environment Programme UR - https://wedocs.unep.org/20.500.11822/41078 PB - AB -
View/Open
Description
Climate change is landing blow after blow upon humanity, The international community must urgently reduce greenhouse gas emissions through a transformation of energy, industry, transport, food systems, financial systems and so much more. However, as the 2022 edition of UNEP's Adaptation Gap Report: Too Little, Too Slow finds, we must also urgently increase efforts to adapt to the impacts of climate change that are already here and to those that are to come. The report finds that global efforts in adaptation planning, financing and implementation are increasing incrementally. However, they are not keeping pace with increasing climate risks.
Collections
Item Chapters
Executive Summary - https://wedocs.unep.org/20.500.11822/41079
Document Viewer
To read more, scroll down below.